During the COVID-19 pandemic, the combination of cardiovascular comorbidities and respiratory dysfunction that is characteristic of a COVID-19 infection warrants diligent auscultation with a stethoscope, which is a rapid bedside tool capable of gathering important diagnostic information noninvasively.
As result of close personal exposure to COVID-19 positive patients, front-line health-care providers are at high risk of infection. It is important to balance protecting medical staff and providing good medical care, which is a key part of preventing more infections. Therefore, medical professionals are required to use personal protective equipment (PPE) in order to protect themselves, while not compromising their patient care.
However, when using the stethoscope, the placement of earbuds will break coverall protection. Is it possible to use a stethoscope while keeping PPE barriers in COVID-19? Digital stethoscope, Mintti Smartho-D2, can help resolve this conflict without compromising either patient care or medical professions safety.
Mintti Smartho-D2, a wireless digital stethoscope practical in COVID-19
Medical staff can wear Bluetooth headphones underneath their protective hood. It is easy to operate and can provide audio quality superior to the disposable stethoscopes used in COVID-19 wards. Advances in stethoscope technology will improve the auscultatory capabilities of health care workers and allow less contact with patients in transmission-based precautions.
Mintti Digital Stethoscope can be paired with a free app to see a phonocardiogram in real-time, and record and transmit heart and lung sounds for future playback. The Bluetooth connection can minimize the number of clinicians potentially exposed to COVID-19.
Proper use of the wireless digital stethoscope, Mintti Smartho-D2, can mitigate the risks and difficulties of tackling the COVID-19 pandemic, allowing healthcare professionals to practice the best standard of medicine while protecting themselves as well.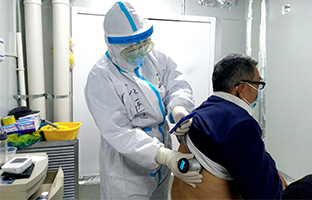 Auscultating a patient with Mintti Smartho-D2 Digital Stethoscope
Want to learn more? You can see our Mintti Smartho-D2 Digital Stethoscope on this page. You can also request a Demo from MINTTI for our Digital Stethoscope.